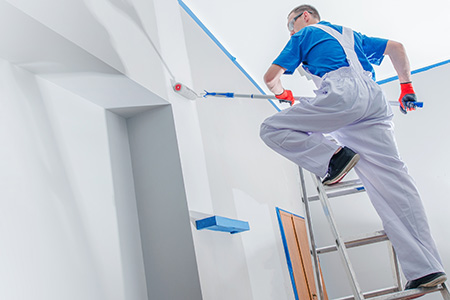 Moving into a new home and need a horrible wall color covered up? Refreshing your home's exterior and changing its dynamic with a new color?
Whether you've got plans for the interior, exterior or both, it pays to hire an experienced house painting company in Park City, UT. At Horizon Painting, Inc., we're ready to prove our excellence and provide you with a finished job that's truly perfect.
Painting Services
Need to touch up weathering on your home's exterior? Moving into a new home and want to start fresh, with blank walls? Instead of searching for interior and exterior painting companies in Park City, UT and trying to vet their work, make one call to Horizon Painting, Inc. and get the very best paint job for your home!
Exterior painting:

Increase the curb appeal and beauty of your home with a fresh coat of paint! We'll carefully wash and paint your siding and trim, using quality paint products that will stand up to nature, time and the elements. We're knowledgeable in painting all surfaces, including wood, vinyl and stucco.
Interior painting:

While some interior paint companies in Park City, UT aim for a job done quick, we aim for a job done well. Count on us to breathe new life into your interiors with high-quality paint in any color you could imagine. When we're done, your interior will have a truly noticeable level of quality.
Additional Services
We don't just deliver the perfect paint job—we also go out of our way to provide repairs and prep work, to ensure a truly perfect paint application. Take a look at some of our abilities:
Pressure washing:
Before decks can be stained or exterior surfaces can be painted, pressure washing is required to make sure they're clean and uniform. Let us handle this job safely, to properly clean your surfaces without damaging them.
Drywall repair:
Have holes or gouges in your drywall that paint just won't cover? Give us a call to patch these blemishes and erase damage, restoring your drywall to a perfect smoothness once again.
Stucco repair:
Stucco surfaces need to be properly repaired in order to be painted. We come equipped to handle repairs of all types and work with precision to make sure any damages are completely erased.
Your Painting Specialists
If you need high-caliber painting or any prep work to ensure beautiful results, don't hesitate to call Horizon Painting, Inc. at 435-513-0344. We'll be glad to provide you with a free estimate on services.